Welcome to my first series. This will be a five-part sewing series on re-purposing t-shirts. I hope you'll come back over the next five Fridays to see what else I share about t-shirt re-purposing and re-styling.
Part One: Re-Purposing Messed Up T-Shirts
Is it just me, or do any of you also find tiny holes in the front of your t-shirts close to your waistline? Seeing that in never happened when t-shirt lengths were shorter nor while I was pregnant and wore those lovely stretchy jeans and pants, I've decided those holes come from wearing a seat belt with jeans on (or anything with a button for the seat belt to rub up against). If you have a better answer, I'd love to hear it, but I know it's not ants because it happens to shirts I hang and shirts I fold, and it happens to all brands. It frustrates me to no end when an adorably cute t-shirt that I've worn like three times has the tiniest hole, and I watch for them these days. Once I get several holes, I give up.
I used to just toss the shirts since they weren't even worth donating with all those holes, but that bothered me. I recycle, donate, and re-purpose as much as possible, so the thought of throwing away an article of clothing seems so wrong to me. What could I possibly do with a t-shirt that was in great shape aside from those pesky holes toward the bottom? Well, unless half-shirts come back in style, I can't just cut off the bottom few inches, re-hem and wear them. Please, oh, please don't let half-shirts come back. As much as I'd love to get to wear these t-shirts again, nobody needs to see my belly after baby #4 took its toll!
Since I wasn't crafty enough on my own to figure out a worthwhile way to salvage these bits of fabric, I trusted on my fellow bloggers for their expertise, and wouldn't you know it. They gave me some grand ideas! Here are my ten favorite projects using old t-shirts that we would have thrown away anyway. I hope to make some day:
While it might not be flip flop weather this time of year, it could be a great time to buy some basic flip flops on clearance so you can make these adorable ones for spring:
I can't wait to get started on this project because I need it to create something I will be showcasing during the fourth week. The only bad part about this is it requires t-shirts without side seams, which is hard to find these days.
This project is just too adorable even though Halloween has just passed. I love these colors, but I'm thinking about making one for other holidays as well. Can't you just picture a beautiful Christmas one or a spunky Easter one?
ishouldbemoppingthefloor's wreath
This bag is great for a quick project. Wouldn't it be ideal to take to the Farmer's Market?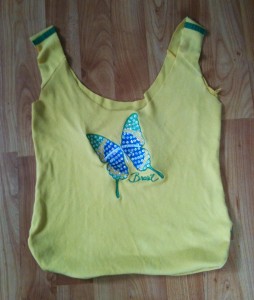 practical-stewardship.com's re-purposed handbag
I absolutely love this scarf! And it's just in time for cooler weather too.
simplysalvage's ruffle scarf
Doesn't this rug look so soft on your toes?
mollykaystoltz's shag rug
I love bracelets, and these are such fun ones!
henryhappened.com's braided-t-shirt-bracelets
These flowers are beautiful, aren't they? Wouldn't they be lovely attached to a headband or hair clip?
emilys-little-world's fabric-flower
Here's another quick yet very practice project. The possibilities for this bag are endless when you have kids at home who love little toys!
craftingagreenworld's draw-string pouch
I so want to make these to keep my hair out of my face when I'm washing it at night, but they are also cute enough to wear when I don't feel like styling my hair before heading out.